Who we are
---
".... Who doesn't travel, who doesn't read, who
doesn't find peace in oneself dies slowly. Muore lentamente
Who destroys one's love, who doesn't let oneself be helped dies slowly;
who spends one's days lamenting about one's misfortune or ceaseless rain..."
(from Ode to life by Martha Madeiros))

At "Casale Massucci" art is at home.

In the 30s, the master composer Eraldo Massucci decided to move near Cardelli, on the road from Corchiano to Vignarello.

Soon he became the director of the orchestra of Corchiano (birthplace of Nicola Piovani). Even to this day, the musical notes of the orchestra directed by Maestro Andrea Mezzasette give rhythm to many initiatives: in 2010 they set the pace for the arrival of "macchina di Santa Rosa di Viterbo"

The farm house, with its "conservationist" restructuring, has maintained its appeal and atmosphere which comes from with its view of the olive groves, roses, irises and tranquility of the place.
Historical photos
---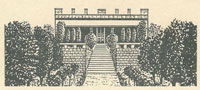 Original design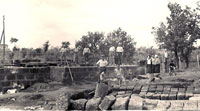 Construction start